Read Time:
2 Minute, 10 Second
Makuyu, Murang'a County – In a region where dreams of land ownership often remain elusive for many, Monjos Real Estate Limited has emerged as a beacon of hope, making the dream of owning a piece of land not only accessible but also affordable.
With their unique approach and unwavering commitment to customer satisfaction, Monjos is revolutionizing the real estate landscape and empowering individuals from all walks of life to fulfill their aspirations of becoming homeowners.
The company has strategically selected prime plots of land in the picturesque region of Makuyu, ensuring that buyers have access to locations that are not only aesthetically pleasing but also offer convenient access to essential amenities.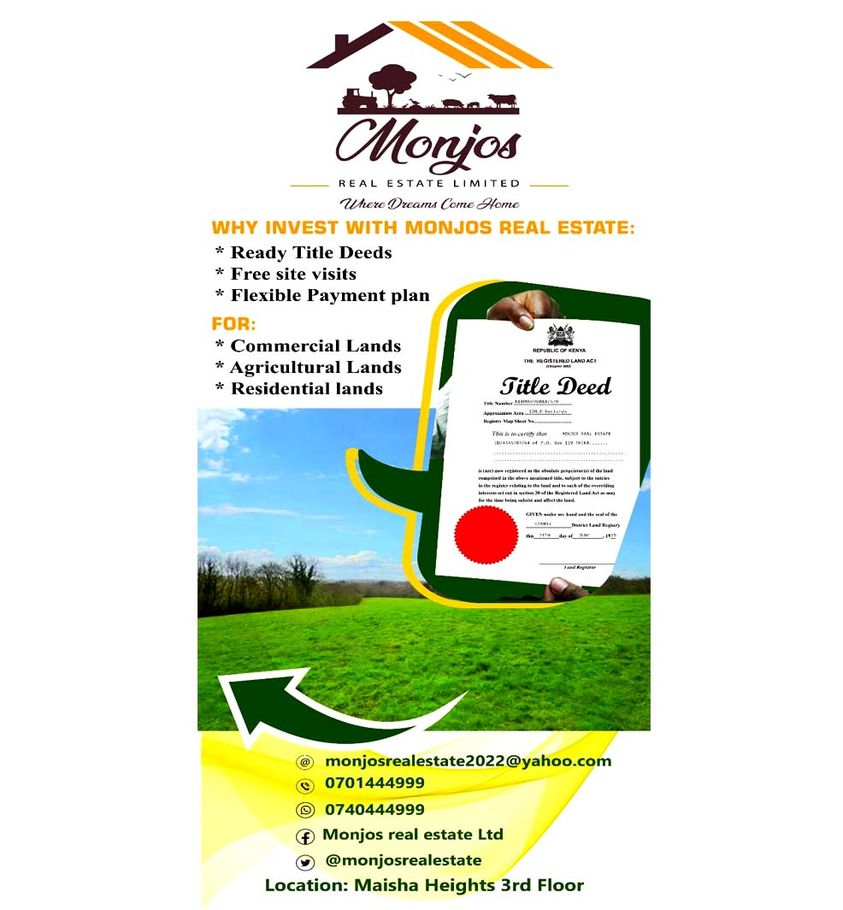 One of the key factors that sets Monjos apart is their affordable pricing strategy. Recognizing the financial constraints faced by many prospective buyers, the company has priced their 50×100 plots at an astonishingly low rate of Ksh630,000.
By offering such competitive prices, Monjos is breaking down the financial barriers that often hinder individuals from realizing their dreams of land ownership.
To further enhance accessibility, Monjos Real Estate Limited has introduced a highly flexible payment plan. Prospective buyers are only required to make a minimal 50 % deposit to secure their desired plot. The remaining balance can be comfortably paid over a period of three months, allowing buyers to plan their finances and make the purchase more manageable.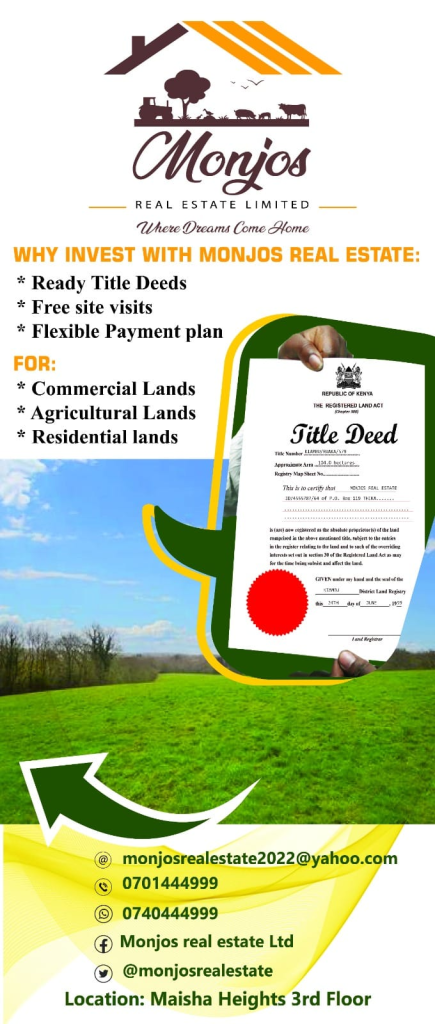 "We believe that everyone deserves the opportunity to own land and build their dream home," said Mr. Monjos , CEO of Monjos Real Estate Limited. "By making land ownership accessible and affordable, we are not only transforming the lives of individuals and families but also contributing to the development of the community as a whole."
He noted that the exceptional value offered by Monjos goes beyond affordable pricing.
"The company's commitment to quality is unwavering. Each plot of land is carefully selected, ensuring that buyers receive a top-quality product that meets their expectations. With Monjos, buyers can have the peace of mind knowing that they are investing in a piece of land that is of the highest standard, "he said.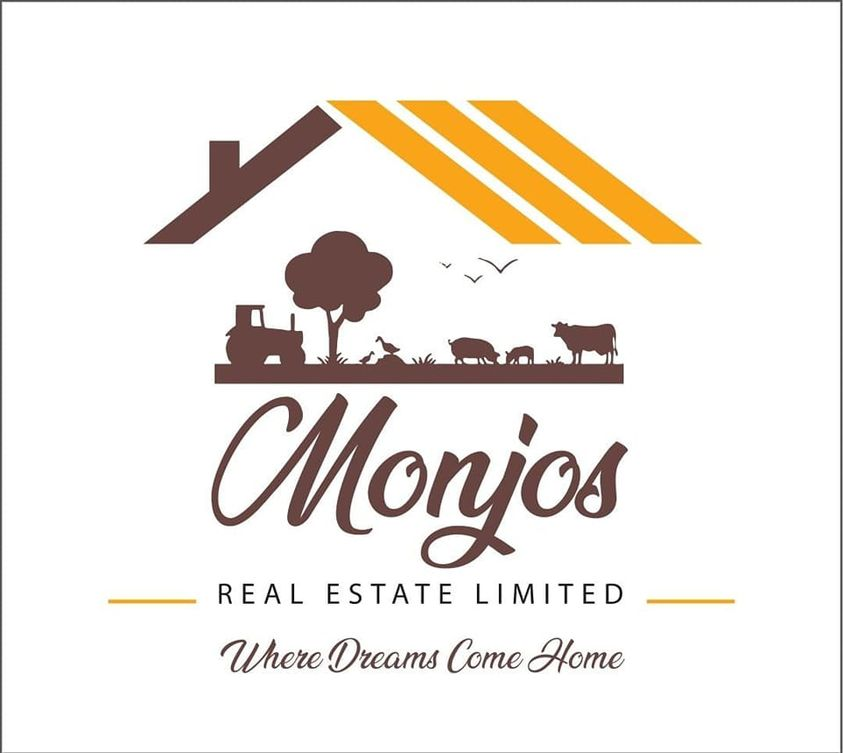 To provide a seamless and personalized experience for potential buyers, Monjos Real Estate Limited has established a well-appointed office at Maisha Heights, located on the 3rd floor opposite Pizza Inn Thika.
The friendly and knowledgeable staff at the office are always ready to assist visitors, answering their questions, providing detailed information about available plots, and guiding them through the purchasing process.
Invest with us
call
0701 444 999
0740 444 999
Pay a visit at our Maisha Heights office, 3rd floor opp. Pizza Inn Thika